We are a family-run general dental office located in the heart of downtown Bartlett. Our office is located in a 135 year old historic home converted into a high-tech 21st century dental office. We offer our patients CEREC crowns (or caps) same day and digital check up xrays that are taken outside the mouth and single tooth anesthesia!
We've made Bartlett smile for 26 years, come join us for the next 26 years!
info@derangofamilydental.com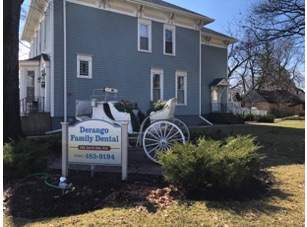 We are proud stewards of a Little, free library at our office. You'll find the cute, blue library in front of the front door of the office (in the back of the building), Please feel free to take a book and read it. Pass the book on to someone else or return it for someone else to read. We also accept donations of books to put in our library.